Sikelelwa Joan Qwazi, also known as Siki JoAn, is a multi-talented artist hailing from Kwa-Zakhele, South Africa. She currently resides in Johannesburg. She is among the top three singers in Voice South Africa's 2019 season. Siki Jo-An is a Rhodes University Bachelor of Arts graduate. She studied Drama and Music. She also graduated from the Duma Ndlovu Academy where she gained more theatre knowledge.
Her artistic style, expression and image embody her abilities, aspirations and achievements as a musician, writer, theatre maker, actress and creative thinker is inspired by the Xhosa culture, the Township lifestyle,experiences that have both directly and indirectly affected her. Siki Jo- An is a musician who sings in all genres. She also plays the guitar and piano. She was part of various productions, such as The Remix SA which was broadcast on SABC 1. She also appeared on Mzansi Insider singing a Tribute song for Winnie Mandela. She has also taken part in theatre productions that were part of Grahamstown National Arts Festival, such as "I am DedaniZizwe", by Lenin Shabalala. Acty Tang from Asia staged "Hunger", which she performed at Rhodes University's Box Theatre. She was part of a play called "Me Over Socity", written by her, which was performed at Umanyano Festival as well as at the Tunya Lerole women's Arts Festival.
Miss Qwazi also has performed in corporate gigs hosted at the Department of Education and Department of Arts and Culture. She has performed at weddings, jazz concerts in various venues, including The Playhouse, The PE Op House, Sibikwa Art Centre, Johanesburg Theatre and Moses Mabhida Stadium. Miss Qwazi shared stage with Desmond Dube and Lindelani Mkhize. You can find her on many media platforms, including The Herald Newspaper February 2019, SABC News Winnie Mandela Tribute (2018) SABC 1 (2018) INGITE Show, and The Vow FM, to name a few.
Siki Jo-An, a young woman who works hard and has big dreams, is very determined.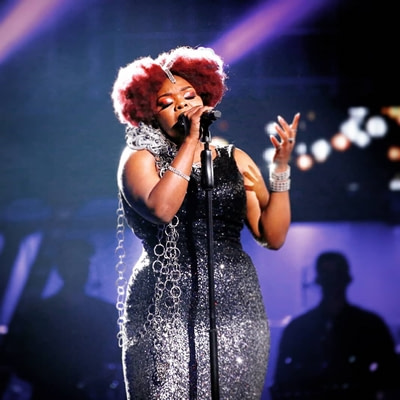 To make a booking for Siki Jo-An please contact Big Talk Entertainment and we will assist you further.