Mzansi Youth Choir was founded in July 2003 to provide talented and underprivileged teens and young adults (14-24) with the opportunity to perform professionally locally and internationally. The choir is made up of 45 choristers who hail from Soweto, Johannesburg and surrounding areas.
Mzansi, which means "south," in isiZulu, is also the township slang term for South Africa. The repertoire of the choir includes elements of traditional, pop, and jazz music.
HIGHLIGHTS ON PERFORMANCE
The Mzansi Youth Choir has been widely regarded as being the best show choir in South Africa. Highlights include the One World Music Festival and M-Net Idols. Starlight Classics, Starlight Classics and The Voice, The Presidential Inauguration. KKNK, The National Arts Festival. South African Music Awards. Performances with the Andrea Bocellis, Josh Grobans, and Celtic Women.
The choir performed the World Cup official song "WakaWaka" at both the Kick-Off Concert and the World Cup Final.
Performances in Canada (Stratford Summer Music Festival), Denmark, (AAVF), Europe's largest contemporary singing festival), England, Turkey (Celtic Festival and Guildhall), Scotland (Commonwealth Games and Mandela Day Celebrations), and Russia (Cultural Exchange – Russian and South African governments).
The choir performed at the International Youth Choir Festival, London's Royal Albert Hall in April 2017. This prestigious global event was only available to the Mzansi Youth Choir, which was the only African choir to be chosen.
Mzansi's youthful and beautiful sound, vibrant choreography, and devotion to South African music are a must-see experience.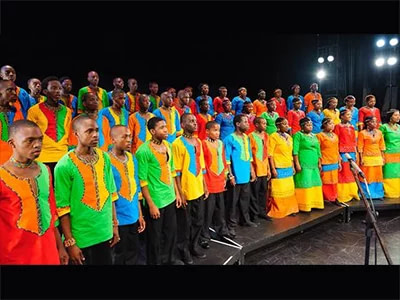 To make a booking for MZANSI YOUTH CHOIR please contact Big Talk Entertainment and we will assist you further.